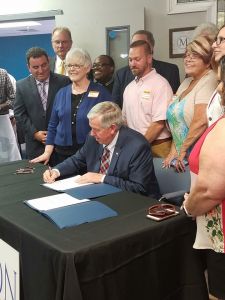 Mission Missouri Stands for Recovery
Mission Missouri is certified by the Missouri Department of Mental Health to provide recovery support services.  Through this funding Mission Missouri serves as an access site for other recovery support organizations in 26 counties of Southeast Missouri.  Additionally, Mission Missouri represents faith-based recovery in partnership with many state-wide organizations whose missions are in some way connected to helping people recover from substance use disorders. Mission Missouri is a founding member of the Missouri Coalition of Recovery Support Services and an anchor for the SE Affiliate called SEMRA - the Southeast Missouri Recovery Alliance. 
Mission Missouri has partnered with Life Continues Recovery, a peer coaching organization housed at the Mission. This partnership is producing innovative results, keeping individuals engaged in services and on a strong road of personal growth. 
Missouri Coalition of Recovery Support Providers (www.mcrsp.org)
Southeast Missouri Recovery Alliance - SEMRA
Missouri Credentialing Board (www.missouricb.com)
Missouri Department of Mental Health-Division of Behavioral Health (www.dmh.mo.gov)
Not By Might Recovery Services (nbmz46.org)
Some of our affiliations include: