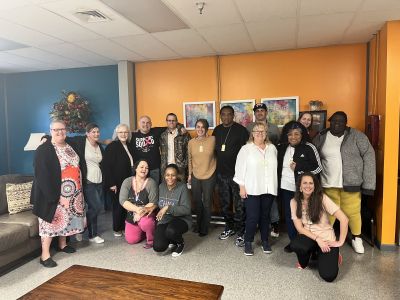 It Might Get Loud!!!!!

What a joy to be part of the Missouri Credentialing Board's MRSS training! In case you are not familiar with our recovery acronyms, MRSS is the Missouri Recovery Support Specialist. My good buddy, Ronnie Sells, is my co-trainer, and we are two of the ten enlisted by MCB to spread this 24 hour, three day educational experience across Missouri. This week Ronnie and I had the privilege of meeting with 13 wonderful individuals who gathered at Mission Missouri for the three days. Yes, we covered all the topics and completed all the requirements…..but, because of the makeup of the group….you guessed it….we had some "church".

Two weeks ago, Ronnie and I had the opportunity to present at the Faith in Recovery Conference hosted by Sikeston First Assembly and Gibson Recovery. Pastor John McHaffie, Laurie White, and Aaron Bales spearheaded an incredible gathering of 134 individuals who came primarily from faith-based church- centered recovery support groups.  Why do I want you to know about these two meetings??? People, if you are someone who has been waiting for the "church" to get real and/or for recovery to get Jesus…..well, the time has arrived. Don't walk….run….to jump all in to be a part of "community"!

For too long our communities have not built the necessary bridges to bring the hurting and wounded into safe spaces for healing. In fact, the sectors of the community that we had deemed safe, such as the church, have not always proven to be so. Thank you, Father, that is changing.  At Riverbend Pentecostals in New Madrid, for example, the creation and growth of Riverbend Recovery over four years ago, has changed the composition and heart of the people. "We are
better because you are here!" is the clarion call. I can attest to the truth of the statement because Riverbend is my church family and for the first time in my 71 years I have a place I know I truly belong. Is not this the "that" for which we are looking and longing? To belong!

Safe spaces are being created all over Southeast Missouri. Pastor John has a list of "Living Free" support groups including his group on Sunday evenings…Help on Hand in Caruthersville is a multi-faceted ministry….Recycling Grace in  Poplar Bluff just opened its third women's recovery house….Jeremiah House in Dexter….Life Support in Wardell meets every Friday night….Compassion Church in Sikeston is on Mondays….CR at Full Gospel in East Prairie….Restart in Dexter on Thursdays….Next Step Recovery in Dexter….Landmark Recovery in Malden on Tuesdays….180 Ministries in Bloomfield on Tuesdays…..Fellowship of Acceptance in Poplar Bluff….Cape's RCC…Shepherd's Fold….Crossroads…Matthew 25….

I know I'm forgetting so many….but never fear….we are working on a resource list as we speak.  And speaking of resources….if you are interested in the next MRSS training it will be at Mission Missouri on April 19, 20, 21. Register at the Missouri Credentialing Board website. It's for EVERYONE….peer, faith-based, professional, family member….if you are interested in being part of the recovery movement in Missouri, you won't want to miss this! And, who knows, we
might just have some church!
Jane Pfefferkorn