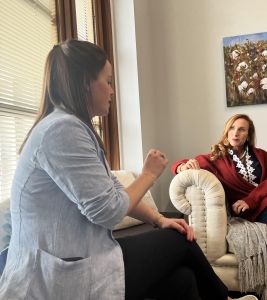 Authenticity
On Monday and Tuesday of this week we had the honor of taking Ashley Lay with us to the state capitolin Jefferson City for two days of advocacy work for recovery support services. Ronnie Sells who is the Chair of the Southeast Missouri Recovery Alliance and I have been talking to legislators for some years but this was Ashley's first trip to speak on behalf of our work.
Greg Smith, Executive Director of the Missouri Coalition of Recovery Support Providers, prepared the way with appointments to be set up, folders for the legislators to be organized and a list of times to keep us on schedule. Greg is an amazing leader with an incredible staff (Christa, Andy, and Jamie) who all work toward creating opportunities for lasting memories to be made.  With Ashley's permission I want to share some words about our experience this week. I captured this picture when we were visiting with Senator Holly Thompson Rehder in her office. Ashley and her family were attending church years ago with Holly and her family. However, those were years when the children were all young. It was beautiful to watch these two women weave together the memories and stories that bound them in space and time. Holly's children were the same ages as Ashley and her sister.
Ashley is a person in long term recovery and a Certified Peer Specialist. She works part time as a peer coach supervisor for Not By Might Recovery Services (Ronnie's company) and for Mission Missouri. Since joining our team Ashley has shared her story of transformation to groups as large as 200 individuals. This has been a new experience since beginning her nine-year journey. Although she had to deal with feeling nervous and unsure of herself, this team has quickly realized that Ashley has a particular quality about her that I personally desire to see in all of us who work in the recovery world. That quality is authenticity.  
Authenticity is simply "being real, true and genuine". A more elaborate definition is "owning our own feelings and being accountable, understanding the impact of our actions on others, and being honest about what we need versus what we want." (Merriam-Webster)   What makes me enthusiastically attribute this quality to my friend, Ashley? Look once more at the
picture. She is a woman who is comfortable carrying her past, her present, and her future. How do I know? Well, I have the advantage of having heard her testimony, therefore I know what she has overcome. I also have the honor of witnessing her ability to engage others in compassionate but honest conversation with the sole purpose of assisting someone in finding their answer within their own heart and soul. In addition, she projects hope for the future. I love the look on Holly's face as they are sharing memories from the past. Holly is someone who recognizes transformation when she sees it. Perhaps I should not try to read her mind….but, here I go…."this is one of God's miracles!"
This is a picture of authenticity….oh, how I long for the day when we are all able to carry our past, present and future in just this same way. Surely, God is wanting that for us more than we can ever imagine!
Jane Pfefferkorn